Got a Question? Call 1-800-600-7997
GET THIS #1 
BESTSELLER FOR JUST $0.99!
Discover How to Invest in Nice Houses
WITHOUT Bank Hassles, Rehabs, or Tenants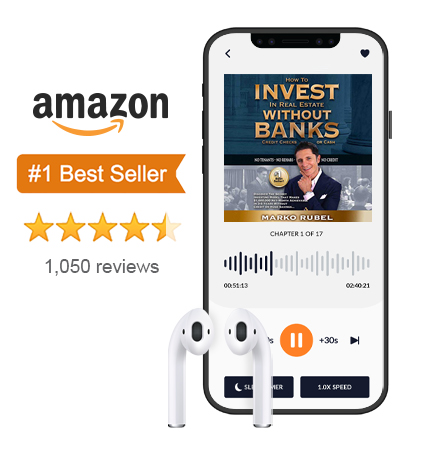 Included
How to Invest In Real Estate... Audio Book

$0.99

Bonus
Get-Your-Questions-Answered Call $197

FREE Today!

Bonus
Virtual Investing Online MasterClass $95

FREE Today!

TOTAL VALUE: $292
$0.99 NOW!
Get Instant Access to the How to Invest in Real Estate… Audio Book For Just 99¢

What Investors Are Saying
"My success and my larger portfolio is all due to the hard work I have put in, thanks to the encouragement and instruction from Marko. I have been able to bring my wife home to homeschool our kids so now this business is our primary source of income."
— Robert Fendler, Alturas, CA
How Is This Book Different?
Most real estate books focus on the strategies of buying ugly properties and fixing them up, then flipping them. You see this method popularized by many fix-and-flip shows on TV.
But here's the TRUTH…
Making money with fix-and-flips (known as REHABBING) is costly, risky, time consuming and a LOT of hard work managing contractors.
Furthermore, the market has shifted and it's getting harder and harder to find properties at the deep discounted prices needed to make a decent profit with fix-and-flips.
With Marko's revolutionary new strategy, you can invest with "pretty houses" in beautiful areas of town. Often these properties will need very little (if any) work at all!
Best of all, you'll discover how you can acquire properties with Marko's strategies that require little money to get started, but have more opportunities than wholesaling or rehabbing.